Call for READ operations  (the name TIA_READ is the arbitrarily chosen name for this call)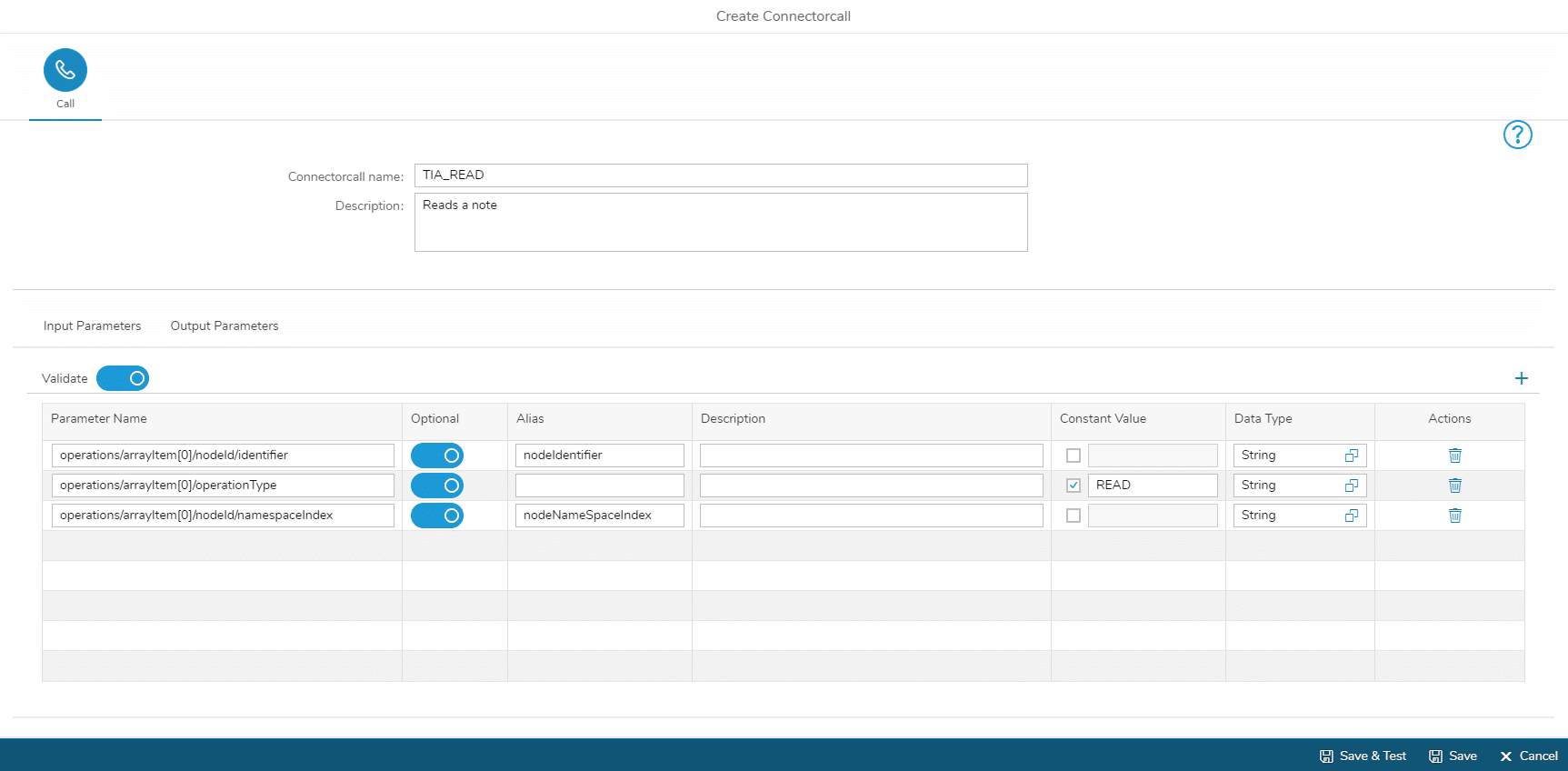 ---
Input Parameter
For the READ Connector Call, you need to configure the "operationType " and the "nodeId" (consisting of 2 parameters: identifier and namespaceIndex). Furthermore, you can define the Identifier Type (optional) and the order of the operations in the code (optional).
operationType: Defines which operation you want to execute, in this case, "READ".
Parameter Name: operations[0]/operationType
Constant Value: READ
Data Type: String
---
nodeID: Defines the identification of the OPC/UA node. It is split in 2 Parameter:
Identifier:
Parameter Name: operations[0]/nodeId/identifier
Data Type: String or Numeric
NamespaceIndex:
Parameter Name: operations[0]/nodeId/namespaceIndex
Data Type: String
In every namespace, each ID must be unique (it is possible to use the String "7617" and the Numeric 7167 together in one namespace)
identifierType (optional): Searches for the Identifier with a fixes Data Type.
Parameter Name: operations[0]/identifierType
Constant Value: Numeric, UUID, String, Byte String
---
order (optional): Order in which the actions should be performed.
This parameter changes the execution order of the specified READ commands e.g. if we have three READ commands. Command 1 reads from node x, command 2 reads from node y and command 3 from node z, the normal execution order would be: x, y, z.
By specifying the read order with numbers starting from 0 to the last command number subtracted by one (e.g. for three commands it would be 2), the execution will be changed according to the defined number.
For example, by adding "order":[2,1,0] to your code, you switched the operations, so the read commands would be executed the following way. z, x, y.
---
NOTE: The specific commands are NOT defined here!
---
Output parameters
You can return all Output Parameter like this:
Parameter Name: /
Data Type: String
If you want to get only selected Output Parameter, use the following syntax:
Parameter Name: operationsResult/[0]/dataType/name (exemplary)
Data Type: depends on the Parameter you want to be returned.
---
For now, only the complete unformatted JSON will be returned.